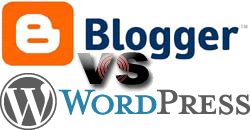 One of the challenging questions posed by a start-up blogger is to find the perfect place where one could finally settle his/her creation.
Like me when I finally decided to have my own blog, I was aware that theres a lot out there who offers free blog hosting services.
I scanned the net for a few minutes looking for who's on top and what's hot. I was amazed how many there was (including from the social networking sites like multiply, friendster, etc. ) Until finally, I decided to narrow my options to two -- Blogger and WordPress.
I was thinking who would be the best? But it seems that this question is quite difficult to answer for every one have its own reason/s and/or opinion.
I have no choice but to try myself instead which one would best suit me.
The way I look at WordPress blogs, I think its really kinda nice. Its clean, simple and the way you could organize and present your posts are amazing. The only problem is that since I'm new to this kinda endeavor, I found it very difficult to find my way and accomplish what I wanted my blog to look like.
But when I tried Blogger, I was stuck. Not only I consider making and tweaking my blog a breeze but as well as giving me the opportunity to earn (through third-party widgets). Whats funny is that I found out that my first ever blogspot account way back two years ago is still present, even though it had only a single post and only comprises a couple of words.
And through this post, I'm awarding Blogspot.com the award as MY PERSONAL CHOICE!