Where to Stay in Tagbilaran City, Bohol - Soledad Suites
Soledad Suites is the first and only upscale boutique hotel in Tagbilaran City, Bohol. It's located along J.C. Borja cor. M. Parras St. Very accessible for its located at the heart of the city. Just a walking distance away from BQ Mall, Agora Terminal, and the St. Joseph Cathedral. Only 10 minutes away from the seaport, 15 minutes away from the airport and less than 30 minutes away from the famous white sand beaches of Panglao.
The hotel has a total of 20 rooms with different room type accommodations, ranging from as high as Php3,200 (Premiere Accommodation) and as low as Php2,000.00 (Business Suite). I got mine for a discounted rate of Php1,760.00 for their Business Suite, a perk for their regular customers.

The staff are very friendly and accommodating. The facilities are well-maintained. The room is spacious. The bathroom is nice. It has its own mini-bar/personal ref and mini-kettle in case you want some coffee or tea inside your room. By the way, a supplementary coffee, tea, and a bottle of mineral water is provided on a daily basis for free.
They have an excellent internet connection speed although you have to request frontdesk to restart the router in case you'll experience hard time making connections. A free complimentary Philippine Star Newspaper is also available at their lounge. It's great for they accept major credit cards. They also provide free shuttle service to and from seaports/airports. An ample parking space if you have your car and a 24-hr coffee shop.
Brewpoint Coffee Club, their coffee shop - is located in the ground floor of which their food isn't that expensive and not at all memorable either. What's notable though is that their menu is somewhat like locally-inspired. I mean the ingredients that they use aren't those stuff which are too familiar commercially - those kinds wherein you can easily have from the leading grocery stores.
What I like about this hotel is that it really gives me a good night's sleep (compared with the other hotels in the city). I'm not quite sure why but probably because of their cozy bed and perfectly smooth pillow or probably because of the spacious room with matching lighting that is of extra-ordinary. Or probably because of their super-duper cool air-conditioning system. I don't know,
maybe probably because the hotel over-all is really quite homey or just because of me - too tired from the day's activities.Whatever is the reason, I really enjoyed my sleep here.
Over-all, I rate Soledad Suites as a 4 Star and would be more than happy to personally Recommend this to you!
You may visit their website at
www.soledadsuites.com
Contact Number: +63 38 501 7421 /
+(6338) 0917 633 3218
Full Address:
Lou Square
J.C. Borja cor. M. Parras Sts.
Tagbilaran, Bohol
Philippines 6300
Google Map Location: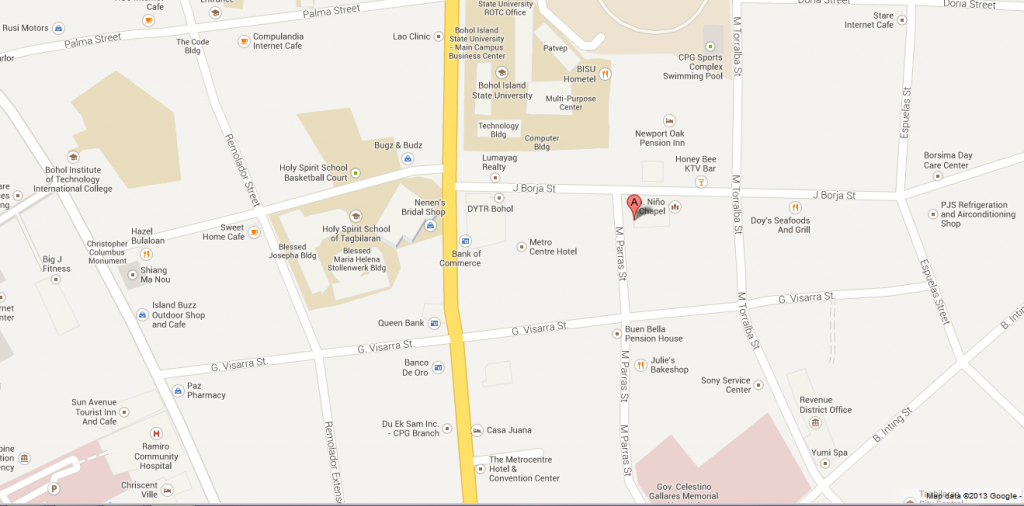 Enjoy your Stay! ;D