Where to Stay in Moalboal, Cebu? At Barefoot White Beach Resort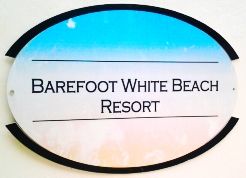 The town of Moalboal is located at the South-western part of Cebu. It is 89 kilometers from Cebu City and about 2.5 hours by bus or around 1 hour and 45 minutes through a private vehicle.
The place is famous among foreign and local tourists alike since it has some notable dive sites like the Pescador Island and a beautiful 2 kilometer stretch of white beach located at Brgy. Saavedra, the famous
Basdaku Beach
.
You can't find anywhere along the southern part of Cebu (or make it anywhere else in the island of Cebu) who have this nice strip of long white beach, a fine sand, accessible to the public, plenty of accommodation to choose from. And not to mention that it can accommodate a large number of beach-goers in one setting because the beach is long and wide.
A day isn't enough to enjoy the fun, sun, and sand so I would recommend an overnight stay. So where to stay in Moalboal, Cebu? Especially near the Basdaku Beach?
Well, there are a lot of resorts and plenty of accommodation type that you can choose from. From a very pricey and high-end resort like the Club Serena at Php6,000.00 a night or you can stay at a really cheap one (spartan type- for backpackers) for as low as Php1,500.00 a night- good for four pax already (perfect for barkada night-outs).
But if you're looking for a nice descent place where it's more private, budget-friendly but with complete basic amenities- then
Barefoot White Beach Resort
is perfect for you. Their published rate is at Php2,500.00 (at Super Deluxe) but during off-peak seasons- you can have their room for as low Php2,000.00 or if you are good at sales-talk (like me), I had it at a discounted rate of Php1,800.00 for an overnight stay.
Barefoot White Beach Resort:
The Accommodation
Barefoot White Beach Resort:
A peek inside their Super Deluxe Room Accommodation
Their Super Deluxe Room is spacious with Filipiniana theme. Equipped with a standard TV with GSat Pinoy DTH service. It has a personal ref, a mini-kettle, and a coffee table for two. Their bed is cozy and their aircon unit works out fine.
Barefoot White Beach-
Super Deluxe Room Accommodation: The Bathroom
Their bathroom although a bit small and functional but the water pressure is really frustrating. That is if you're not used to this common type of problem in cheap hotels/resorts. But considering that the water supply is really a challenge even at town proper plus the fact that the resort is very far from the water source. I think this is understandable or bearable if I might say.
Barefoot White Beach-
this is it! The Beach!
The beach forms part of the two kilometer fine white sand stretch of Basdaku Beach. One downside truth is, their accommodation isn't located at the front of the beach but instead you have to take a little around 50 steps to get you there- from your accommodation room to the beachfront. One exception is their single Honeymoon Suite which is located just in front of the cabana.
The beachfront is located among the strip of high-end resorts in the area which is at the far-end of the stretch thus offering you the privacy or the exclusivity away from those prying eyes or the paparazzi type.
If you wanna explore the rest of Basdaku Beach (also best doing it on barefoot- as the name of the resort implies) and the excitement that is present in the area, you only have to walk a little less than 500 meters to the left. There you can see a lot of people enjoying different activities, swimming, snorkeling, preparing their dive, playing beach volleyball. Some souvenir shops, sari-sari stores, and videoke machines can also be found. You can dine there (a carenderia type is also available if you're on a budget) since the resort doesn't have any in-house cafe or kitchen. Some hawkers frequent the area selling you their wares and yes- some local delicacies and some of their fresh sea foods catch! They're fresh from the source and really cheap vs the city's market value. Just beware of buying the foods (those already prepared or cooked already) for you might catch diarrhea if your tummy isn't immune to these sort of stuffs.
Now to sum it all up, take these things into consideration:
Positive:
Rates (Not too High - Mid-Range)
Accommodation (spacious with cozy bed)
Staff are friendly and accommodating
Accepts major credit card
Secluded white beach with fine sands
Negative:
Location of the beach from the accommodation - around 50 Steps leading to the beachfront
Eating/Dining is a challenge - the resort don't have an in-house restaurant nor a cafe
Far from the main road - you have to walk a few distance like 100meters at least from the resort to its parking area
Road is too narrow (in some area) and unpaved (difficult to walk at night)
My Verdict:
Over-all, Barefoot White Beach Resort is still a must-try if you want value for money, privacy, and the famous Basdaku Beach. Go check 'em out!
Here are the details of the Resort:
Address:
Barefoot White Beach Resort
Brgy. Saavedra, Moalboal, Cebu
Map: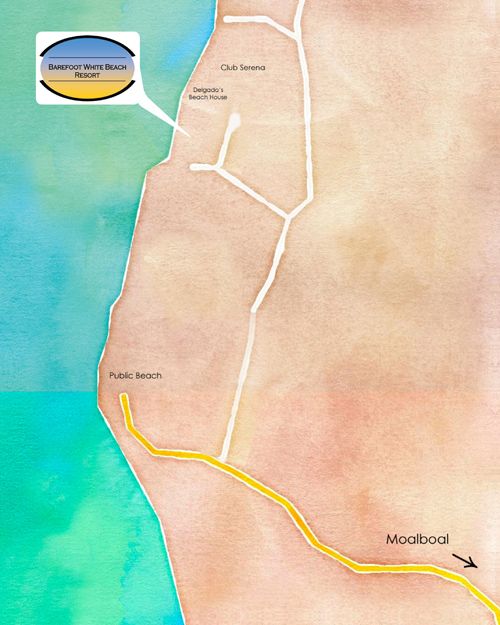 How to Get to Barefoot White Beach Resort from Moalboal Town Proper
Getting there:
By Taxi

Barefoot White Beach Resort is located in Moalboal, Cebu. To get there, take a taxi from Cebu City, the taxi ride takes about 2 hours and cost approximately Php3,000.00 (75 USD). They can also arrange airport pickup for you, just ask for your reservation.
Driving

If you are driving from Cebu City, take a right turn as you get into Moalboal town proper, following a big sign towards Saavedra and Club Serena. Follow the road for about six kilometers and soon after you pass the checkpoint to get into the White Beach area, take a right and follow the signs to Barefoot White Beach Resort.
After taking a left after a couple of hundred meters you will find the entrance to Barefoot White Beach Resort next to Club Serena and Delgado's Beach House. There is guarded parking available about 100m away from the resort entrance, so please drive all the way up and let us know that you have arrived so we can help with the luggage before you go to the parking area.
It can be a little bit hard to find them, but it has some perks. You'll love being away from the noise and the traffic.
By Tricycle

A tricycle from Moaboal town should cost no more than around Php200.00 (You can also make hangyo or tawad and make a pa-cute smile to the driver so you maybe given discounts). Caution: Beware that the drivers may try to charge you more, or bring you to a different resort to get a commission. This is quite a common practice here among the locals.
Website:
www.barefoot.ph
Email:
reservation@barefoot.ph
Contact Numbers:
0063 928 493 9798 (Globe)
0063 922 848 7497 (Sun)
Enjoy your adventure! ;D