World's Greatest Dad Starring Robin Williams: myWeekEnd Movie Review
This is a RePost from my FB Notes dated November 7, 2010. I think this is the right place where it belongs.
The
World's Greatest Dad
is a 2009 black comedy film starring
Robin Williams
(Jumanji), Daryl Sabara (Spy Kids), and Alexie Gilmore (The Devil Wears Prada). It was written & directed by Bobcat Goldthwait.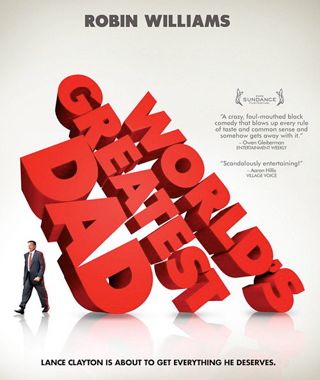 Image courtesy of www.vh1.com
Overall- I rate the film 4 Stars out of 5. It was well-written, unique, and having a good performance expected from one of myPersonal Fave comedic actor- Robin Williams. It does gave me a few laughs, a few scenarios- of which I can truly relate in my real life back during my teen years. And a few unexpected twists, and a nice I-feel-good ending.
But I think the most notable thing that I saw from this movie is the act called
Erotic asphyxiation
. It is the intentional restriction of oxygen to the brain for a maximum sexual arousal. It is a kind of sexual disorder because it has the potential for death or may cause serious injury if not properly administered. A sort of BDSM, I suppose but only on its extreme sense.
According to author George Shuman, the effect as such "When the brain is deprived of oxygen, it induces a lucid, semi-hallucinogenic state called hypoxia. Combined with orgasm, the rush is said to be
no less powerful than cocaine
, and highly addictive". Please refer to this Wikipedia link for more info: http://en.wikipedia.org/wiki/Autoerotic_asphyxiation
Heck, I never knew that a weird practice exists until I finished watching this movie.
Watch its official trailer here from YouTube
P.S. By the way I also learned here the acronym
TILF
or in other words- Teacher I Liked to F*ck.