The Accidental Billionaires: The Founding of Facebook, A Tale of Sex, Money, Genius, and Betrayal by Ben Mezrich
This is a RePost from my FB Notes: March 5, 2011 - I think it should be posted here.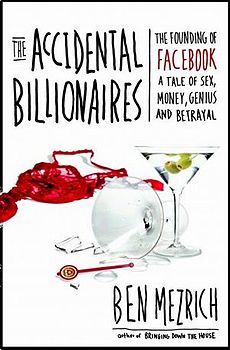 Photo courtesy from Wikipedia.org
I happen to have an interest with the book since Facebook has been a part of my life, although i had been a member for this social networking site for around four years already but I didn't got really serious logging-in until just last March of this year when I wanted to reconnect an old friend of mine.
I searched for him everywhere on the net, although I found quite a few traces of him, including of course from Friendster but I can't get any feedback or replies from the messages I sent him. I was about to get frustrated when I tried to find him here at Facebook as my last resort.
This site didn't fail me. I found him here. This is where his hang-out is. The place where he not only spend his boring hours but as well as his primary tool in reconnecting his friends and loved-ones back here in Pinas.
From that moment on, I was hooked with this site. This is almost like my prayer, wherein I logged-in before and after I went to bed. Facebook is now running in my blood. And it is just appropriate that I wanted to know the story behind it all. The founding of Facebook and how its co-founder, Mark Zuckerberg turned from an ordinary geek from Harvard, into the world's youngest self-made Billionaire.